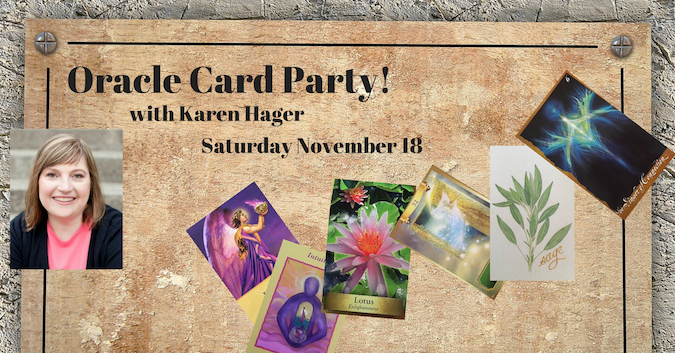 Saturday 11/18

10 am Pacific / 11 am Mountain / noon Central / 1 pm Eastern

Join us from your phone, your computer, your tablet ... just get in here! :-)

90-minute class with practical tools, in-depth reading explanations, and a chance to pull a card for a classmate (and have him/her pull one for you)!

Your investment: $33 (a $221 value)



You'll be able to see me live on video as I share teaching and tools that will help you get the most from your experience with oracle cards.


Whether you use oracle cards daily, or have never worked with them, this class will give you a new perspective on this powerful intuitive tool.

A few students will receive a live oracle card reading with me during the class, so that I can illustrate the way I use the cards and help you understand how I feel into the intuitive connection around the question.
Oracle cards are a wonderful tool for divination. They're fun and super accessible for a casual user, for one thing! But as you spend time working with them, you'll discover that they provide a powerful focal point for your own natural intuition and connection with your guides.

In this 90-minute live class, I want to teach you the basics of working with oracle cards ... and how to go beyond the basics to really dig into this powerful intuitive tool. I'll choose a few students to do readings for in a live demonstration.

Want to practice pulling a card for someone else? You're in luck. At the end of the class, we will split into pairs so you can practice on a question from a classmate ... and they can pull a card for you, too.

Here's just some of what we'll cover:


Learn the difference between tarot and oracle cards (yes, there's a big difference)

How to pick the right deck for you

Getting to know your new oracle cards


Caring for your deck

How best to ask your question for clearest guidance

Dos and don'ts for receiving accurate information

How to "see" more than just the image on the card


I'll bring several decks with me to class and you should bring yours, too! We'll take a look at how to "read" an oracle card. The image on the card is only the beginning!

Grab your seat now for just $33!


We'll be using Zoom's audio/video platform to connect for our class. After you pay, you'll be taken to a page with full instructions to access our oracle card party on November 18!

(And no ... you will NOT be on video. Just me. So feel free to come to class in your pajamas if you like!)

You can access our live class from your computer, tablet, or phone. And our class will be recorded, so you won't miss a thing.

Questions? Wondering if this is right for you? Please feel free to email me!


---